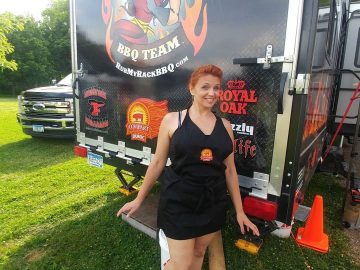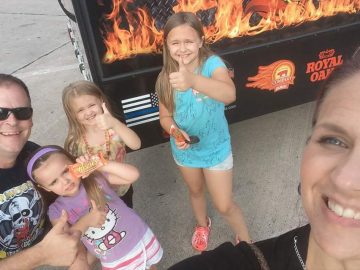 RUB MY RACK is a Professional BBQ Team from Ft. Ripley, Minnesota. We are a family team made up of Stan & Tonia Dobosenski, and our children Zoe, Gemma & Maizie. In our family BBQ competition is not just a hobby, it is a food, a life, a love, and we enjoy it every step of the way.
2017 was another fun filled year out on the KCBS circuit. We logged 7,875 miles, hitting 15 contests in 7 states this season. Great family & friends, and competition memories were made the whole way. 
(1) GC (1) RGC
(24) top ten calls
(6)  1st place walks, (1) 180 in brisket. 
(11) 2nd – 5th calls
KCBS: 15 comp or less
8th Ribs
15th Pork
24th Brisket
39th Overall
2017 MN Team Of the Year Ribs
Our favorite 2017 memories
Competing at the Royal Invite (contest of champions) for the first time, pulling a 12th in Brisket and 12th place overall.
Advancing it to Sams ProBBQ tour finals.
Zoe's first Kids Q GC in Boone.
Gemmas first time cooking a Kids Q.
BBQ family friendships continued, and the new ones that were made. It truly is one big ol' family out there, and it's pretty awesome.
-Stan, Tonia, and the pit banditas.
Web: www.rubmyrack.com
Instagram: https://www.instagram.com/rub_my_rack_bbq/
Check out Rub My Rack BBQ Team (@rubmyrackbbq): https://twitter.com/rubmyrackbbq?s=09