Compart Family Farms™ has a strong commitment to testing and performance documentation. The Compart family has invested into research facilities where over 100,000 pigs were tested the past 15 years. These research tests were designed to figure out the very best feed natural ingredients to feed the animals to maximize the genetic potential they have been bred for.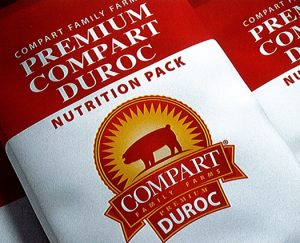 All pigs utilized in the Compart Family Farms Compart Duroc sired meat program are of the same genetic makeup, and fed the same proprietary ration throughout growing and finishing phases. This combination reduces the variability routinely found in the pork industry today. This information is essential in the formulation of the feeds that are utilized by all farms involved with the Compart Family Farms™ Compart Duroc sired program.
What this means to the consumer is, the very most uniform product with more consistent premium quality eating characteristics that are all natural.