Durocs are red pigs with drooping ears. They are the second most recorded breed of swine in the US today and a major breed in many other countries. They can range from a very light golden, almost yellow color, to a very dark red color that approaches mahogany.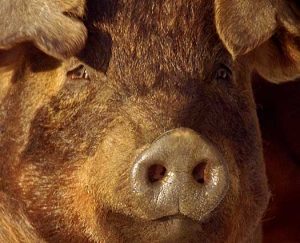 The history of the Duroc breed dates back to Columbus bring red hogs to America on his second voyage. DeSoto also brought red hogs to this country, presumed to have come from Spain and Portugal.
In 1823, a red boar from a litter of ten whose parents were believed to be imported from England, was obtained by Isaac Frink of Saratoga County, New York, from Harry Kelsey. Kelsey owned a famous trotting stallion, Duroc, and Frink named his red boar in honor of the horse. This boar was known for his smoothness and carcass quality.
At the 1893 Chicago World's Fair, Durocs gained wide popularity at the first successful Duroc Hog Show. This was only the beginning of the Duroc popularity and success, which continues today.
The first organization for the purpose of recording, improving, and promoting red hogs was the American Duroc-Jersey Association, which was established in 1883. In 1934, that organization became known as the United Duroc Swine Registry, for the sole purpose of recording and promoting the Duroc breed.
Durocs have become a sire of choice to the American farmer. The climb of the breed has been accelerated by many distinguished accomplishments in longevity, lean gain efficiency, carcass yield and product quality as a terminal sire. Durocs are identified as a superior genetic source for improving eating qualities of pork in the recent National Pork Producers Council Terminal Sire Line Evaluation. Their advantage in muscle quality combined with their well-established ability to grow fast has positioned the Duroc breed as an outstanding terminal sire choice.
Although Duroc has been Identified as a superior breed, Compart Duroc lines have up to twice the Marbling as any other Duroc line in the industry, due to the Compart's intense testing and selecting program for the past 70 years!