Compart Duroc premium Hickory Smoked Bone in Ham is the hallmark of hams. Make it the main event at your next gathering! Whether it's for your buffet or your next holiday, this bone in ham is ideal, and will keep your guests coming back for more.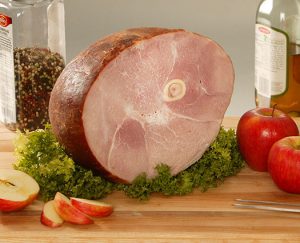 Approximate weight per piece:
Whole: 2 pieces per case, 14-16 lbs.
Half: 4 pieces per case, 7-8 lbs.
To inquire about distribution, Contact Us at (877) 441-2627.